Whether you use your car every day or just on the occasion, scratches and dents are bound to appear over time. If you want to keep your car shielded from minor damage, have the paint covered with a protection film — this transparent layer creates an invisible barrier that is specifically designed to protect vehicles.

With a protective film, you can shield the painted surface of their cars from the wear and tear caused by day-to-day use. Designed to blend as close as possible to the actual surface of the vehicle, the film can be waxed and polished in order to achieve a high gloss shine common in car paint. Additionally, with car paint protection film, Dubai drivers can choose to apply it on the entirety of the car, or only on the impact areas such as the hood, fenders, side mirrors and bumpers.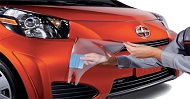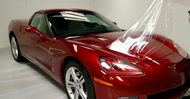 Reliable Protection of Paint
Tests conducted in a controlled environment have revealed that the film is incredibly resilient, capable of deflecting sand, gravel and small stones by absorbing the shock of the initial contact and deflecting the foreign material away. Furthermore, it is capable of deterring scratches from sharp objects getting in contact with the surface. The material also deters car paint staining, which is often caused by tar and other substances.
Durable and invisible
Aside from the aspect of functionality, there is also the aspect of aesthetics. The material is almost completely invisible. Even with careful inspection of the surface, it would be difficult to identify any difference at all. This is what differentiates the material from clay sprays – the commonly used material for coating vehicles for long travels - which are visible and unappealing. Additionally, said material is able to withstand rainy weather, unlike clay sprays that are usually washed away by constant water exposure.
Easy Maintenance
With Apex car paint protection film, Dubai car owners can easily remove stains that are usually difficult to remove. All it takes is some mild detergent, water, and a bit of rubbing to remove the stains. This is because the glossy and shiny makeup of the surface of the film keeps grime from building up and becoming difficult to remove. Additionally, with the application of this material vehicle owners can remove scratches with a simple polish.
Resale Value
To arrive at the resale value of a vehicle, one of the most important things that buyers in Dubai consider is the quality of the vehicle's exterior. Re-painting a vehicle often causes depreciation. By taking preventative measures, owners can keep the paint job of their vehicles in pristine condition whenever the film is removed. Not only is the re-sale value kept at a premium, installing this protective material actually increases the re-sale value of a vehicle in Dubai, as it is considered a beneficial modification.